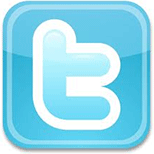 Twitter: The world's largest 'micro-blogging' site.
As the latest social media site to explode in popularity, the power of Twitter can't be underestimated. By encouraging frequent interaction between users and only allowing a limited number of characters per 'tweet', twitter is fast moving and exciting.
The idea of communicating on the Internet is continually evolving, and with Twitter, you have the opportunity to reach millions of people in a matter of seconds. From a business marketing perspective, Twitter can help you create a sustainable communication model to drive more leads, revenue, and customer evangelists to your product. And with third-party tools, you can track your brand on Twitter, measure your Twitter effectiveness, and target Twitter users based on their location.
Twitter provides the ultimate tool for instant communication with friends, family and colleagues, regardless of geography, time zones, and other factors that have up to this point been barriers to communication. For business today, it offers a chance to act fast and take advantage of opportunities in real time–even organize impromptu marketing aimed at mobile phone users. For example, if you're a chiropractor, capture the follower who is complaining about back issues! If you have a bike shop, why not get in on the discussion about best bikes in your city?
It's a chance to put a personal face on your business, and show that you care! It's kind of like networking on a huge scale like you've never imagined. And we all know that networking is the key to advancement in any career–and any business venture.
It's amazing how creating a buzz can change your business overnight…but do you really have the time to do it all?
As with most things in life, it's all about keeping it real. Taking the time to say 'hello' to new followers, joining discussion groups, offering opinions and advice and establishing trust can go a long way toward strengthening your online credibility. In fact, companies that don't take the time to engage with their communities and interact frequently risk losing out to a competitor who does. However, a commitment to Twitter or any other social media is a big commitment of your valuable time. That's where we can help! Today's digital market demands an interactive and shared approach and it's a challenge to keep up with your growing popularity.
Let us professionally manage your Twitter account through timely responses, informative 'tweets' that get results, moderating activity and competition, uncovering prospects and determining your best business opportunities. Never miss out on an important opportunity to connect with your followers!